Southern Pines, NC (PRWEB) November 27, 2007 — Executive Coach, Bea Fields, joined a distinguished panel of Generation Y business leaders at the International Coach Federation (ICF) Annual Conference in Long Beach, CA, to present on the topic of Coaching at the Speed of Y: Bringing Coaching to the Next Great Generation of Leaders. Along with Scott Wilder, Jim Bunch and Rob Newbold, Fields is the co-author of Millennial Leaders: Success Stories From Today's Most Brilliant Generation Y Leaders. (http://MillennialLeaders.com).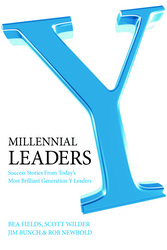 Fields shared the stage with co-author, Scott Wilder, General Manager of Intuit's Online Community, David Charles Cohen, Chief Executive Maestro of Writers of the Round Table Inc., Misti Burmeister, CEO of Inspirion, Inc. and 19-year old Ben Casnocha, Founder of Comcate.
"It was truly an honor to be co-leading this presentation with such a dynamic group of young leaders," said Bea Fields, President of Bea Fields Companies, Inc. "I had the opportunity to interview Scott, David, Misti and Ben in 2007 for the Millennial Leaders book, and to be with them in bringing such an important topic to my professional colleagues was inspiring. These visionaries are having a very positive impact on our future, and the public needs to know about them and their successes."
Fields' mission with this presentation was to provide professional coaches with strategies on how to achieve greater levels of success by learning how to attract Generation Y while inspiring older generations to gain a greater understanding of Gen Y's world views.
"Based on the positive response from over 275 attendees, I believe we achieved our mission," said Fields. "Gen Y leadership is a hot topic, and I believe we provided the audience with a fresh perspective on the challenges Generation Y is facing and how we as professional coaches can start working with them to support them in being successful in the future."
Millennial Leaders brings readers a unique, close up look at the people responsible for the cutting edge of social and business trends. The authors offer interviews with Wilder, Cohen, Burmeister and Casnocha as well as 21 other key Generation Y experts.
To learn more about Scott Wilder, David Charles Cohen, Misti Burmeister, Ben Casnocha and the Generation Y leaders featured in Millennial Leaders, visit http://www.millennialleaders.com/meet_the_experts.html
For more details about Millennial Leaders: Success Stories from Today's Most Brilliant Generation Y Leaders, visit http://MillennialLeaders.com or contact Bea Fields at (910) 692-6118..